HER MAJESTY – THE QUEEN
<![if !vml]>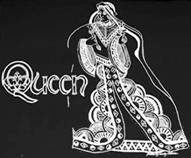 <![endif]>
Queen's logo in Japanese:
<![if !vml]>
<![endif]>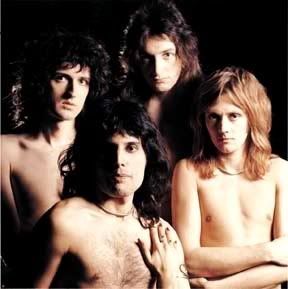 In April 1970, Tim Staffell decided to leave Smile and Freddie joined them as lead singer. He changed the name of the band to Queen, and his last name to Mercury – Mercury being the Roman messenger of the Gods and Freddie's ruling planet, as his star sign was Virgo.
Brian May, the lead-guitarist of Queen, says: "Changing his name helped him assume a different skin … The Bulsara person was still there but for the public he was gonna be this different character, this God … He invented himself."
<![if !vml]>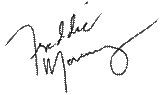 <![endif]>
The name Queen appeared to be a natural choice for Freddie: "Years ago I thought up the name "Queen" … It's just a name, but it's very regal obviously, and it sounds splendid … It's a strong name, very universal and immediate. It had a lot of visual potential and was open to all sorts of interpretations. I was certainly aware of gay connotations, but that was just one face of it."
Freddie Mercury had clear ideas of how to improve the show with theatrical elements which was completely unusual at that time. In spite of that, Freddie designed the famous band's logo, the Queen-crest, using the birth signs of the members. The phoenix on the top of the logo represents immortality.
<![if !vml]>
<![endif]>
Queen was not complete until February 1971 when the members have auditioned numerous bass players and came up with John Deacon. The line up of the band did not change until Mercury's death in 1991: Freddie Mercury as lead singer and lead pianist, Brian May as lead guitarist, Roger Taylor as drummer and John Deacon as bassist. They were four intelligent, talented and motivated songwriters with distinctive styles which blended into one whole.
Inspired by the heavy rock of Led Zeppelin and Hendrix as well as the vocal harmonies of the Beatles and Yes, the members' backgrounds and ideas, but in the first line by Mercury's exotic routes and interests for theatre, opera, cabaret, cinema, literature etc. the new group mixed up all these influences in one big melting pot, resulting in the formation of Queen, a name that became synonymous for creativity, variety, innovation, timelessness, perfectionism, hard work and highest quality showmanship.
Freddie Mercury: "Glamour is a part of us and we want to be dandy", he told the British press early in the band's history. "We want to shock and be outrageous, instantly". He exactly understood how to draw attention on him and Queen. First, he created a new stage presence by improving it with dramatic and theatrical elements. Afterwards, he himself applied an image which he could use in public. Mercury realized the importance that sex sells: "I do deliver sex appeal. It's part of modern rock. I sell sex appeal with my body movements on stage."
"People can think what they like about my bi-sexual stage image. That's what I want them to do. I want to keep the mystique." In some of his later interviews he confirmed: "The whole point was to be pompous and provocative, to prompt speculation and controversy."
Biba, the famous boutique in Kensington in the 60s and 70s, where Freddie was a regular visitor and where he met Mary Austin:
<![if !vml]>

<![endif]>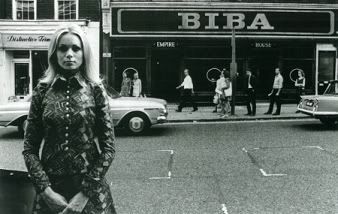 Designer Zandra Rhodes who designed the stage costumes for Freddie Mercury and Queen in the early/mid seventies: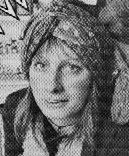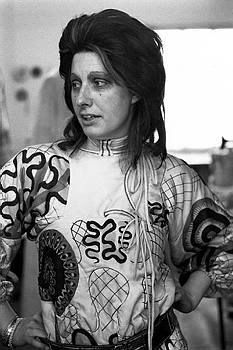 +++ A funny article from Oct. 20th 1973, Mirabelle (source: www.queencuttings.com): +++
A RIGHT ROYAL GROUP
Who's Who in Queen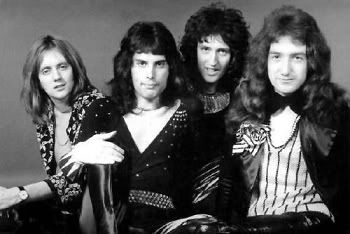 Freddie Mercury is tall, dark, striking in appearance. Wears black and white and silver on stage (as do all the group). He lives in Kensington in a flat full of marvellous strange objects and, of course, a piano to work on. He has two rather wild and beautiful cats. In the group he is the lead singer, and occasionally plays the piano, and composes the music and writes the words. He was born 5th September 1946 (which makes him a Virgo), in Zanzibar. Freddie was educated in India, and became a table tennis champion and hockey expert. Freddie studied at Ealing School of Art and became a qualified illustrator and graphic designer. His influences are Jimi Hendrix and Liza Minelli, and his ambition – to become a legend and to appear on a 'Liza Minelli Show'. His likes – Sweet and sour spare ribs with onion sauce.
Brain May is also tall, dark and handsome. He lives in Fulham and has one cat. He plays the guitar, sings, and also writes words and music. Brian is twenty-three and born under the sign of Cancer. He's over 6ft. tall, and was born in the country. Brian has a degree in Physics, and has taught at a comprehensive school. He was also an astronomer for four years. His influences are Clapton, Beck, Davy O'List. His likes are cats, Hermann Hesse (the writer), prawn cocktails, C. S. Lewis (another writer), and quiet people. His dislikes – liver, noise, cold feet, non-contact and politics. Ambition? To be a penguin when he grows up!
Roger Meadows Taylor is blond and has blue eyes like Paul Newman's. Roger lives in Richmond, has a beautiful cat called Ziggy who had six wonderful kittens last summer. (That makes a total of ten cats within the group!) He plays the drums, sings, and writes words and music. He is twenty-three (a Leo), was born in Norfolk, but lived in Cornwall from the age of eight. His influences are The Yardbirds, The Who, Bob Dylan, John Lennon and himself? His hobbies are wrestling and cat breeding. His ambition? To go Super Nova!!
Deacon John is the quietest member of the group. He is good-looking with a very alive, intelligent face, and longish light brown hair. He plays the bass guitar. Deacon was born 19th August 1951 (a Leo) in Leicester. He achieved a first class honours degree in Electronics. He says his influences are – Yes, the World, and 60 cycles!! His likes – elastic, waxed string, lino, and bowler hats!
CANDY ROSE
+++
'Hairy Queen':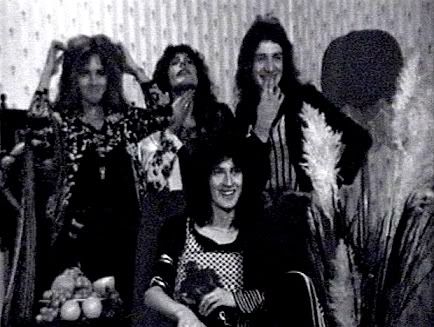 Freddie at some early Queen Performances:
Classy Queen: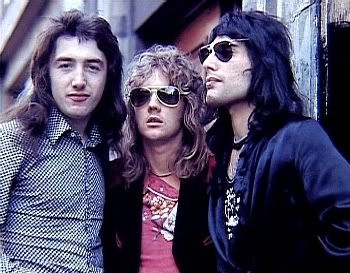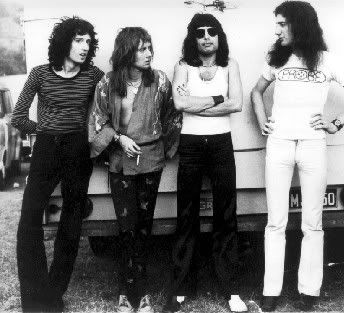 Young Freddie Mercury, just at the beginning of Queen: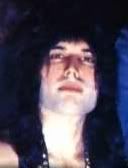 Freddie and Mick Rock, Queen's early photographer:
Detail of the censured poster to promote Queen's 1976 "A Night At The Opera" tour (source: www.queenmuseum.com):
<![if !vml]>

<![endif]>
© Copyright 2006 - 2013; Daria Kokozej (Contact Me)