AIDS – LAST DAYS
Freddie's Kensington home in London, Garden Lodge: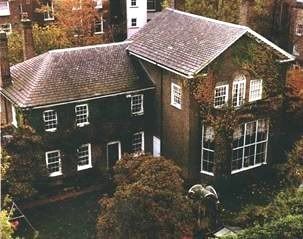 Mercury wanted his illness to be kept a secret. Only friends and people he thoroughly trusted were told, such as the band, his family, his personal assistants and friends, because he wanted to protect them from the immense pressure from the media. Furthermore, he did not want any pity and had to be treated normally. Everybody denied the fact that he had AIDS until 24 hours before his death, when Mercury has officially announced it.
Brian May: "As soon we realised Freddie was ill, we clustered around him like a protective shell. We were lying to everyone, even our own families, because he didn't want the world intruding on his struggle. He used to say, 'I don't want people buying our f***ing records out of sympathy.' We all became very close. We grew up a lot."
By the end of his life Mercury produced some of his best work since his early days and the legendary album "A Night At The Opera".
Roger Taylor: "It was tragic that that terrible bloody disease should break up Freddie's career, because he was improving and improving as a singer and performer. It was just a terrible shame. He felt that he couldn't deliver what was expected of him. I miss him tremendously."
<![if !vml]>

<![endif]>
In the last few years and months of his life, he was working until it was not possible for him. While working, he still had an incredible commitment to perfection; he continued to write music until his death. Before Freddie became too weak to travel, he decided he wanted to make one more visit to the new flat he had bought in Montreux, Switzerland, with its magnificent views of the lake Montreux and surrounding snow-capped mountains. Queen also had their own recording studios in Montreux and, realizing that he did not have enough time to live, Freddie wanted to try to record as many new songs as he could to leave behind for his fans.
Several unfinished tracks were completed by surviving members for the 1995 posthumous album "Made In Heaven".
On November 23 in 1991, Mercury finally announced that he had AIDS. The next day he died peacefully at his home in London surrounded by friends and family of AIDS related bronchial pneumonia.
Freddie Mercury was given a Zoroastrian burial and was cremated.
After Mercury's will was published, a friend of his revealed: "He did an awful lot of things in secret for charities. He was a very generous guy; he just didn't like to show off about his charity work."
Mary Austin made known that the singer had given away millions before he died to help a number of AIDS charities. She has admitted: "It was something he kept quiet about. Freddie was always very committed to the AIDS cause and to the people who suffered from the disease the way he did."
+++ my personal Freddie Mercury special: Freddie's house 'today' (July/August 2006) +++
I was in London for a week in July/August 2006 to go sightseeing and to visit all the places related to Queen and Freddie Mercury. The place which interested me most was Freddie's house. The wall has 'grown' probably twice since the pass away of its previous resident; so from the street it is nearly impossible to see anything – just the top of the house. Luckily the building which is situated on the left side from Freddie's home is in the state of renovation and a really nice guy who works there has allowed me to go at the top of the building to have a better view on Freddie's home (Thank you very much again!!!). In that way I've played Sherlock Holmes and zoomed in my camera right to the 'most visible' windows, because I was so curious to know what was happening inside… so here you can see the result of my little expeditionJ:
The front sight of Freddie's house:
<![if !vml]>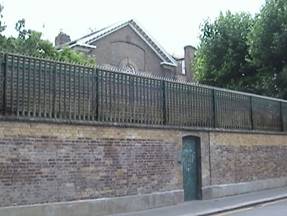 <![endif]>     <![if !vml]>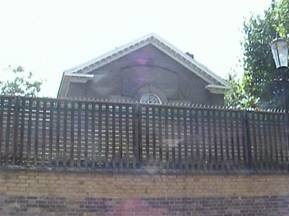 <![endif]>
Side view from the top of another house and detail views of the two most visible windows: P.S. I did not intend to hurt anyone's private sphere! I deeply apologize if it seems so!
<![if !vml]>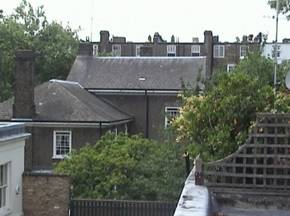 <![endif]>     <![if !vml]>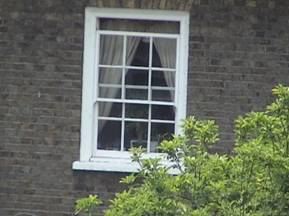 <![endif]>
<![if !vml]>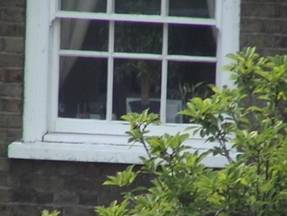 <![endif]>     <![if !vml]>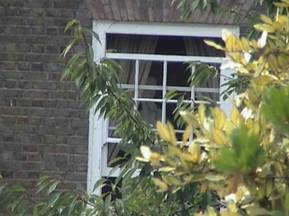 <![endif]> 
On the second pic you can see the street where Freddie's house is situated; just walk straight ahead; Freddie's home is on the left side.
<![if !vml]>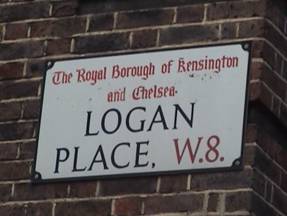 <![endif]>     <![if !vml]>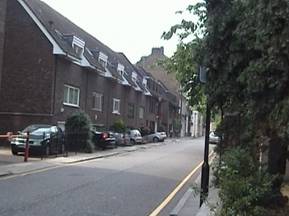 <![endif]>
© Copyright 2006 - 2013; Daria Kokozej (Contact Me)