AN EVENING AT THE OPERA
collage: Daria Kokozej
Freddie Mercury with the Royal Ballet – rehearsing:
At the event itself:
In October 1979 Mercury fulfilled a long-time dream by performing with the Royal Ballet. Wayne Eagling, a Royal Ballet principal, was a close friend of Freddie's and invited him to appear as a guest artist at a charity gala.
"Bohemian Rhapsody" and "Crazy Little Thing Called Love" were both choreographed and Freddie added live vocals to the sound of the London Symphony Orchestra. Freddie danced so well that evening that he received a standing ovation.
Another great, monumental project was Mercury's duet with famous opera diva Montserrat Caballé: the album "Barcelona", of which the same titled song has become the official song for the Olympic Games in 1992.
Freddie first saw Montserrat Caballé in1983 when she was performing the role of "Amelia" in the opera "Un Ballo in Maschera" by Giuseppe Verdi in Covent Garden in London and was captivated by her voice. In an interview Mercury said he would like to meet her and this dream fortunately came true. They met each other one day in 1987 and spontaneously improvised the whole night until in the morning in Freddie's home in Kensington. Originally, they intended to record one song but what happened was a whole album of original and revolutionary music written by Mercury with Mike Moran on the piano and the help of lyricist Tim Rice who acknowledged Freddie's music: "It was operatic, it was over the top, it was melodramatic but in many aspects it was true opera." Indeed, what Mercury created was not a rock opera, which was fashioned in the late 60s and early 70s in England, for example "Tommy" by The Who, but a real fusion between opera, rock and in some places elements of gospel and even traditional Japanese music.
Freddie was literally flowering at the time he was doing this project: "It's amazing, I mean now I'm going to opera, you know; forget rock'n'roll."
In addition to it Freddie brought joy to the people with whom he was working; Montserrat recalls: "It was a marvellous moment of my life – this one year together … one of the most surprising beautiful and happy [moments] of my life; it was like a distension, like a window open to the world."
Montserrat Caballé: "Barcelona was an example of the high musical talent of Freddie. He was not only a popular singer, he was a musician that could sit at the piano and compose. He discovered a new way to bring different music styles together. He is the first and only person to have done this"
'Opera singer' Freddie Mercury: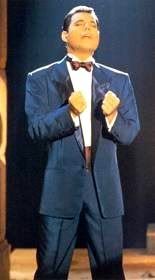 With Montserrat Caballé:
+++ At a recent E-bay auction (January 2007) some photographs of Freddie rehearsing with the Royal Ballet were sold for – please correct me if I'm wrong – hundreds of pounds (source: I copied the pic directly from the auction)+++:
<![if !vml]>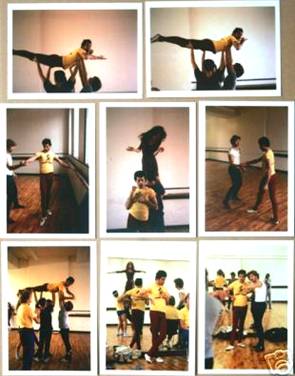 <![endif]>     <![if !vml]>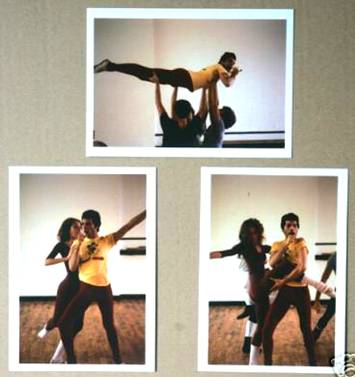 <![endif]>
© Copyright 2006 - 2013; Daria Kokozej (Contact Me)