LOVE OF MY LIFE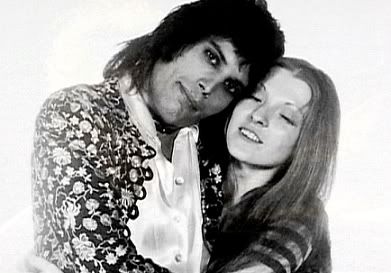 Freddie Mercury's love life sadly always had been in the focus of the press and public eye. There had been and still are lots of rumours and lies about this delicate and private topic. Furthermore, the press seems to forget that Mercury had the most attaching relationships with women, of which the most endurable and emotional was with Mary Austin, the love of his life, who was an inspiration for the same titled song "Love of My Life".
Right before meeting the love of his life Freddie had a relationship with Rosemary Pearson, nicknamed 'Rose', from 1969 to 1970; they met at Ealing School of Art in London. Rose remembers how Freddie, while at the time rehearsing with Smile would burst into a song in the street, wear theatrical clothes and practise everywhere. However, she didn't associate this with "gayness": "I just thought he was obsessed with what he wanted to do. It was theatre, a visual expression … He liked to be a drama queen and the Queen thing grew out of his personality. He was finding his feet. People sent him up about his persona – I thought they were insensitive; I thought the theatrical persona, the gayness, was an add-on. And I was drawn to his otherness."
She recalls: "I didn't think he was gay at all. He was playing around with the idea. He wanted to adopt a gay persona because he thought it was more appealing, more exciting. He absolutely adored women."
Freddie Mercury met the love of his life in 1970, Mary Austin. They lived together for seven years and remained best friends until his death (the interview with Mary Austin in the OK! magazine published around the year 2000 even states until 1980); in Mercury's later life she became his personal assistant and after his death the inheritor of the bulk of his estate.
Mary was 19 years old and working in public relations for the trendy London boutique Biba when she first met Freddie; until then her life had been deprived. Her parents were poor; both parents were deaf and communicated through sign language and lip-reading. Mary left comprehensive school at 15 without taking her O-levels. "He was like no one I had ever met before … Freddie had widened the tapestry of my life so much by introducing me to the world of ballet, opera and art; I learned so much from him and he's given me personally so much."
Mary Austin – the love of his life:
After five, six years, Mary became suspicious that something was going wrong: "… his life rocketed – the band got successful. Things were never the same after that. Our relationship cooled. I felt that he was avoiding any confrontation with me. When I came home from work he just wouldn't be there. He would come in late. We just weren't as close as we had been."
There could have been a misunderstanding, but nobody knows what exactly happened, because of the delicateness of the subject.
In an interview in 1978 Freddie Mercury revealed: "After 7 years we have come to an understanding. I felt that as I'm on tour so much, Mary should have a life of her own."
Freddie Mercury: "Our love affair ended in tears, but a deep bond grew out of it, and that's something nobody can take away from us. It's unreachable. All my lovers ask why they can't replace her, but it's simply impossible."
Freddie and Mary: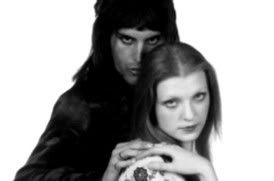 A famous person's life is not easy to participate... you are exposed to the public eye, people follow you everywhere, you are confronted with all the 'dirty' business which exists in the modern music industry; all in all it is a very difficult life; and then of course fame changes people...
Many of Freddie Mercury's friends said that his bisexual image was a superficial aspect of his life. Freddie Mercury never admitted to be gay and very often mentioned in his interviews that in reality he was very lonely and that the 'gay' or 'bisexual thing' was only a stage image - an image which he adapted for the stage: "People can think what they like about my bi-sexual stage image. That's what I want them to do. I want to keep the mystique." In some of his later interviews he confirmed: "The whole point was to be pompous and provocative, to prompt speculation and controversy."
After Freddie's death Mary said: "I'd lost my family really when Freddie died … Freddie was everything to me, apart from my [two] sons."
The most important and definitive statement of Freddie Mercury speaking about his love life is perhaps: "I couldn't fall in love with a man the way I could with a girl."
"Love is the hardest thing to achieve and the one thing in this business that can let you down the most. I have built up an immense bond with Mary. She has gone through just about everything and always been there for me."
"Love of my life – you've hurt me,
You've broken my heart and now you leave me,
Love of my life can't you see,
Bring it back, bring it back,
Don't take it away from me, because you don't know –
What it means to me,

Love of my life don't leave me,
You've taken my love, you now desert me,
Love of my life can't you see,
Bring it back, bring it back,
Don't take it away from me, because you don't know –
What it means to me,

You will remember
When this is blown over
And everything's all by the way –
When I grow older
I will be there at your side to remind you
How I still love you – I still love you.

Back – hurry back
Please bring it back home to me,
Because you don't know what it means to me –
Love of my life
Love of my life…"
<![if !vml]>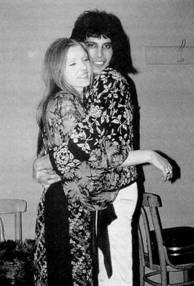 <![endif]>
After 14 years still best friends: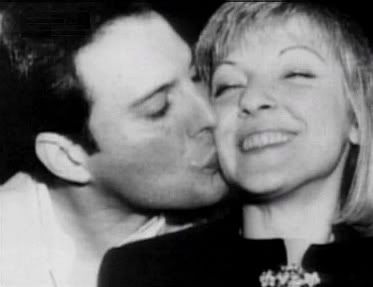 Mary in 2000:
© Copyright 2006 - 2013; Daria Kokozej (Contact Me)