GROWING UP IN INDIA
St. Peter's School: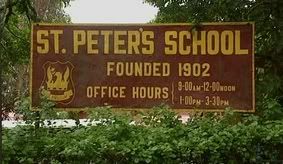 Yet being a child Farrokh moved with his parents to Bombay, India, as these movements were part of his father's job. As followers of the Zoroastrian religion, Bombay formed their spiritual home. In fact, their grandparents' hometown was Bulsar in the Gujarat province of western India. It was from the town's name that Freddie's family took the name.
While his parents and his sister Kashmira resided in Bombay, 8 year-old Farrokh was sent in February 1955 to St. Peter's, an English style boarding school in Panchgani, a small town 50 miles away from Bombay where his education was in better hands. (+++ IMPORTANT: due to inaccurate facts in interviews, books etc. it is impossible to know – at least for me – whether Freddie's parents in fact have resided in Bombay while Freddie was studying at St. Peter's. It is possible that Freddie was sent alone with a ship to Bombay and then made a journey to Panchgani while his parents resided in Zanzibar. A great problem are also inaccurate dates: it is really hard to find the right sources of information about the matter WHEN actions were taking place, f. ex. when EXACTLY Freddie was sent to India. ALTHOUGH: In 'The Untold Story' the current principle of St. Peter's opens the school archives and tells that the dates when Freddie was at St. Peter's were 14th February 1955 – 25th February 1963 +++) St. Peter's had four schools, two for girls and two for boys. It was there that classmates began calling him Freddie, a name the family also adopted.
The school was run like a typical British public school, with a great emphasis on etiquette and discipline.
Freddie: "I was at boarding school for nine years so I didn't see my parents that often. That background helped me a lot because it taught me to fend for myself."
Despite its strict tradition, St Peter's was liberal enough to accommodate boys with artistic leanings. Mr. Davis, Freddie's music teacher, used to hold sessions after tea in the evenings. He would play the boys pieces from operas and readings by classical English actors. Although Freddie was quiet, he was not afraid to express himself to either pupils or teachers. He was a good singer and sportsman; he acted in a variety of plays, participated at school festivities and was a talented visual artist.
At St. Peters Freddie also began taking piano lessons. He fell in love with the instrument and eventually attained a grade four in theory and practice.
At the age of 12, Freddie was awarded a Junior All-Rounder trophy for all his achievements.
Freddie, the all-rounder:
Freddie's first public singing was in the school choir.
At St. Peter's, Freddie and four of his classmates formed their first band, "The Hectics". They soon became the unofficial 'school band', appearing at fetes and school functions. They would cover hits of Cliff Richard, Elvis Presley, Little Richard and Fats Domino.
While Freddie was at St Peter's, his parents moved back to Zanzibar. In February 1963 Freddie joined his parents at their Zanzibar flat.
At a birthday party: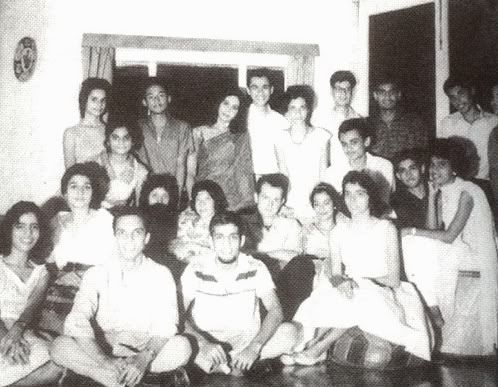 Freddie:
<![if !vml]>
<![endif]>
The Hectics with Freddie in the middle:
<![if !vml]>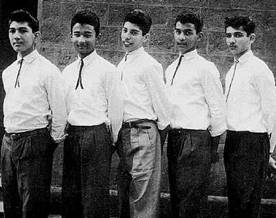 <![endif]>
The Hectics in action with Freddie at the piano: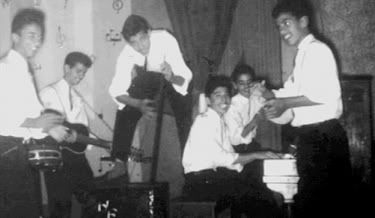 This was possibly Freddie's look from the stage – in boarding school (pic from UNTOLD STORY):
Freddie at a 'bicycle race':

Freddie, the box champion:
At sixteen:
<![if !vml]>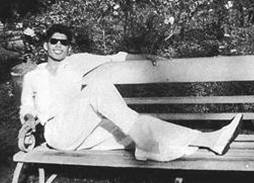 <![endif]>
Teenage Freddie Bulsara in a very expensive amateur video shot in India sold at E-Bay in 2004 or 2005 (it would be very interesting to know if there is more info on it! ):
I have copied the picture DIRECTLY from the auction:
<![if !vml]>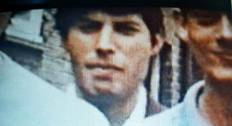 <![endif]>
© Copyright 2006 - 2013; Daria Kokozej (Contact Me)