LIVE AID: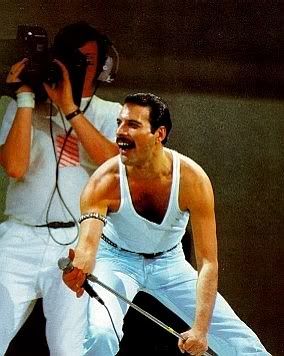 In the mid 80s Queen continued their success with their 1984 and 1986 albums "The Works" and "A Kind of Magic" and their spectacular appearance at the gigantic charity event for the people in Africa, Live Aid. Mercury also issued his first solo album in 1985, entitled "Mr. Bad Guy".
Live Aid was watched by more than a billion of people worldwide; in 17 minutes Queen gave probably the most impressive performance of their existence. Freddie Mercury's legendary performance at Live Aid has recently been voted by various artists, journalists and music industry executives as the greatest live performance of all time in rock music. Queen was widely regarded as having stolen the show, largely as a result of Mercury's incredible talent and charisma.
Bob Geldof, the organizer of Live Aid in 1985 (and Live 8 in 2005) said some time after Live Aid: "Queen were absolutely the best band of the day. They played best, had the best sound, used their time to the full. They understood the idea exactly – that it was a global jukebox … they just went and smashed one hit after another … it was the perfect stage for Freddie: the whole world."
This period has become a high point in Freddie's and Queen's career. Since the late Seventies these were Queen's most prolific years until Freddie's death in 1991; they have recorded the Soundtrack to the film "Highlander" and played their biggest tour in the summer of 1986 ending with their last concert ever with Freddie Mercury at Wembley and Knebworth. Although first rumours of Freddie Mercury having AIDS occurred, he denied it and Queen continued working hard.
© Copyright 2006 - 2013; Daria Kokozej (Contact Me)