CULTURE SHOCK
Feltham:
Freddie had been back in Zanzibar for less than one year when in January 1964, a revolution broke out across the island.
Zanzibar, a British protectorate on the way to become independent was mainly comprised of Africans with smaller groupings of Arabs and Indians. In the autumn of 1963 an election was held and an Arab party came to power. Africans in Zanzibar were discontent and formed their own party. In January 1964 the British Government handed over rule of the island to the Arab Sultan who was consequently overthrown by the African majority in a bloody revolution. People were assassinated and killed on open streets; Freddie's mother Jer recalls this terrible and dangerous period: "It was very frightening, and everybody was rushing around and didn't know what to do exactly."
Many people feared for their lives and quickly left the country. As the Bulsara's had two young children they decided to leave the island for England in spring 1964.
Meanwhile, Zanzibar united with an area on the African mainland formerly known as Tanganyika; together they became Tanzania in April 1964.
The Bulsaras settled down in Feltham, a suburb in the west of London, just a few miles south of Heathrow Airport. Their changing of the environment could not have been radically; compared to Zanzibar and India, Feltham was grey and monotonous. Freddie Bulsara was the personification of exotic foreignness and stood out against other teenagers.
Freddie Bulsara in the 60s:
The Bulsaras worked hard to integrate themselves in England; as they did not have any servants anymore they had to do everything on their own. Freddie had several jobs to move away from his parents and to become independent.
Freddie decided to aim for Art College, but was ineligible as he had no academic qualifications. So, in the autumn of 1964, he signed up for a fashion and art course at Isleworth Polytechnic School in West London – leaving it in the spring of 1966 with an A-grade A-Level under his belt. After Isleworth, he was accepted to study graphic design and illustration at Ealing College of Art. At the same time, he moved into a rented flat in Kensington.
Freddie: "Art School teaches you to be more fashion conscious, to be always one step ahead"
At Ealing College of Art:
<![if !vml]>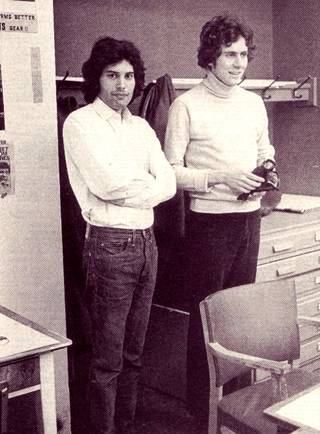 <![endif]>
In 1966, London was the middle of a unique cultural explosion across the boundaries of art, music, fashion and literature. The famous borough of Kensington and Chelsea in particular, was its epicentre. In 1967 Freddie, like millions of other teenagers, discovered Jimi Hendrix and was captivated by his charisma and stage-presence. Being an artist and an admirer of Jimi Hendrix, Freddie began to dress extravagantly and to behave accordingly. In that way he became part of the bohemian musical world of Sixties' London.
"When Jimmy Hendrix started, Freddie absolutely idolised him. Hendrix was his God. At college, he used to spend a great deal of this time drawing Hendrix and I can remember him miming in the art room, holding a twelve-inch ruler as through it were a microphone, and throwing back his had as he mimed the songs. Hendrix was everything to him and I suspected it ran a great deal deeper than just the music. Hendrix was the Negro from the ghetto who had pulled himself up by his boot straps and had become totally accepted by everyone, white and black, because of the quality of his music. And although Freddie wasn't impoverished and living in a ghetto, I think now, looking back, that Hendrix represented something to him, a goal that he could achieve himself... and I admire Freddie for what he's done since. He's worked enormously hard, and really has pulled himself until now he's a superstar." – Tim Staffell.
In his circle of friends, Freddie was known as sociable, witty, charismatic and camp. He was very fashion conscious and already learned how to behave like a star. "With hindsight looking back you think 'He must have stood out, he must have been the leader of the gang' and he wasn't really, because his nature was actually very kind and gentle – actually he was very quiet", a friend from his college years says.
Brian May: "Even then he realised that he was in the core very shy but … he was already kind of cloaking himself in a persona, being something rather larger than life."
While attending Ealing, Freddie met Tim Staffell, who was a member of a local band called Smile. Freddie soon began attending Smile's rehearsals and got to know the group's other members, guitarist Brian May and drummer Roger Taylor. He often used to come along, make comments on Smile's appearance and give advice on how their stage presence should look like.
Inspired by his new friends, he began playing in bands himself, such as Ibex which turned then into Wreckage and finally Sour Milk Sea (exact dates in the Freddie Mercury profile at the bottom of the 'Mercury – the all-round artist' section). Chris Smith, a former band member and friend, tells how he was startled by Freddie's musical talent: "The first time I heard Freddie sing I was amazed. He had a huge voice. Although his piano style was very affected, very Mozart, he had a great touch. From a piano player's point of view, his approach was unique."
Onstage, Freddie had a completely different personality than his otherwise calm, extremely well-mannered character.  In front of the audience, Freddie was an extrovert entertainer, who would practise his typical dramatic movements which later became a trademark of Queen's live shows.
Although in 1969, Freddie left Ealing with a diploma in graphic arts and design, he was on the way to become a legendary performer and show master.
+++ read the article from RECORD COLLECTOR, March 1996 about Freddie's beginnings +++:
Link:
http://www.brianmay.com/queen/queenbeforequeen/frames.html
Link to Freddie's art:
<![if !supportLineBreakNewLine]>
<![endif]>
http://www.mercury-and-queen.com/fmqfreddieart.htm
Ibex: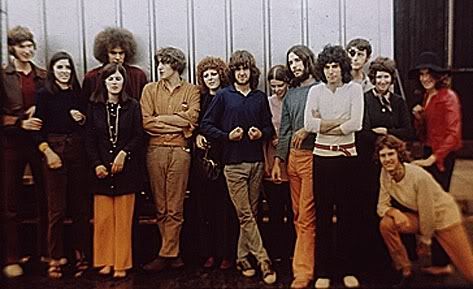 A "silhouetto of a man", Freddie at an Ibex-tour:
<![if !vml]>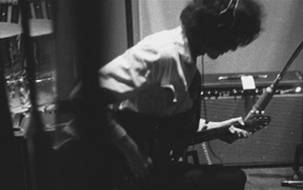 <![endif]>
First concert with Ibex: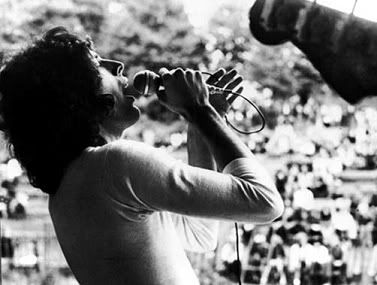 Ibex concert poster:
<![if !vml]>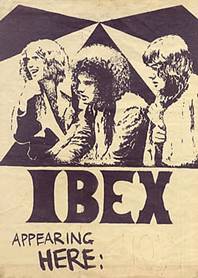 <![endif]>
Back in London, at a friend's flat: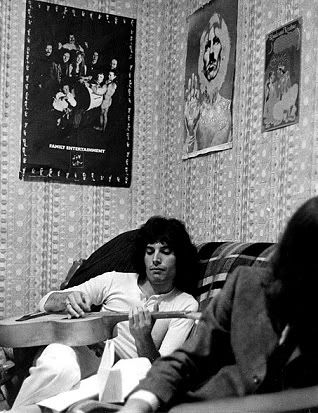 Sour Milk Sea:
<![if !vml]>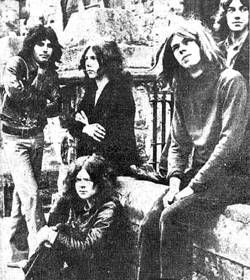 <![endif]>
Smile:
<![if !vml]>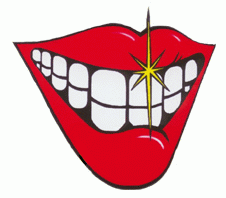 <![endif]>
Smile outside the Royal Albert Hall in 1969: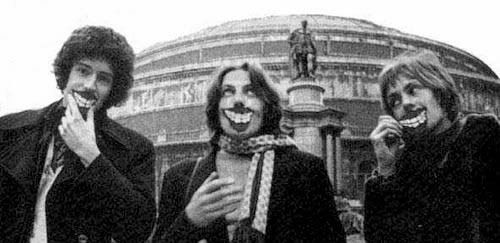 Early Queen with Mike Grose as bassist: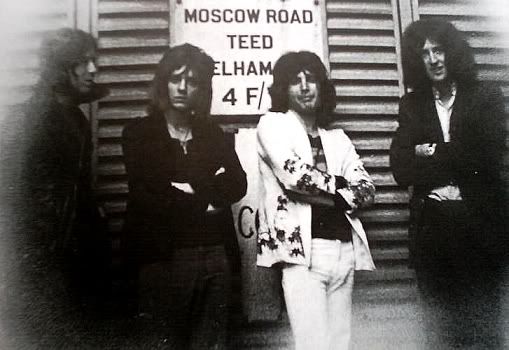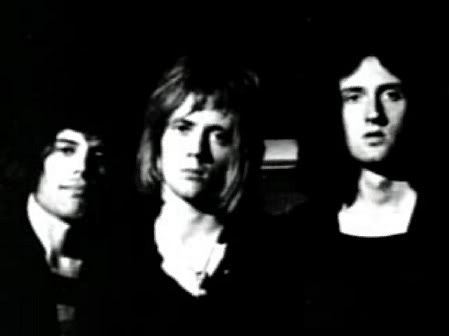 Barry Mitchell, another Queen bassist:
<![if !vml]>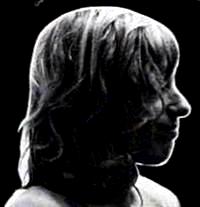 <![endif]>
© Copyright 2006 - 2013; Daria Kokozej (Contact Me)