MERCURY – THE MUSICIAN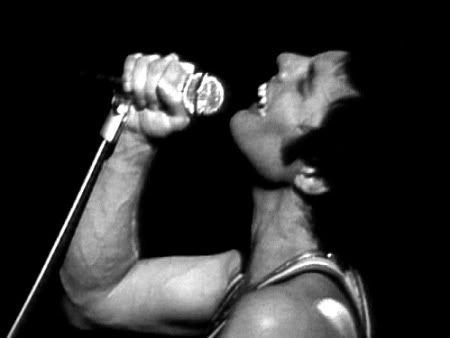 Montserrat Caballé (1992): "He asked me what I thought of his voice, admitting that when young he had wanted to sing opera. His voice really was that of a baritone, though his fans would of course not have accepted that sort of voice. So, to prove a point, I got him to sing a duet with me – Violetta's and Germont's 'Dite alla giovine' from 'La Traviata', which I think was taped. He sang it very well. I don't know how much more opera he would have been able to do, though he was such a creative person. I'm sure he would have been able to improvise anything. Freddie was a great practical joker – we both liked a laugh, though when we were working it was very serious. And although we were sometimes working for hours at a time, we were never tired or bored. He would come into the studio and say, 'Look, my dear, I have another creation!' Then he would play 'La Japonaise', 'Guide me Home', or 'The Fallen Priest', the most operatic piece on the album. Working with him was such an inspiration. I had so much respect for his workmanship"
Musically Mercury sounds very progressive and incomparable; in fact he was so progressive that he 'foresaw' techno music in "Ogre Battle" (between seconds 00:34 and 00:35) although he was influenced by Led Zeppelin and Hendrix in his early days, his style already was starting to crystallize, the best and earliest example for the start of the development of his own style is probably "My Fairy King" with numerous key changes and a rather complex structure which was musically a kind of 'fore-runner' of "Bohemian Rhapsody".
Without sharing a passion for opera and classical music Freddie's songs would not sound as we know it. Many of Freddie's friends confirm that he was an ardent opera and ballet appreciator and that Freddie owned numerous opera videos and LPs (Source: Rick Sky's book about Freddie Mercury). One of his friends even states that one of Freddie's favourite ballets were Prokofiev's (Russian composer) "Romeo and Juliet" and that he also liked "A Month In The Country", an opera by composer Lee Hoiby. Furthermore, Freddie reveals in one of Kenny Everett's radio shows that he likes listening to Chopin.
+++
Roger Taylor (2002): "Freddie was a brilliant musician, which most people forget among all the dressing up and ridiculous costumes and his outrageousness."
Mike Bersin: "Freddie was the most musical of all of us. He was trained on the piano, and he could write on the black notes. He said, 'We're never going to get anywhere playing all this three-chord blues crap, we'll have to write some songs'. A couple of things came out of it, but they've all vanished now. I can't imagine that they would have been very satisfactory anyway - largely because he was working with me, and my understanding of music was incredibly rudimentary. We used to argue about whether we should put in key changes. I'd say, 'What do you want a key change for?' And he'd say that it made the song more interesting, it gave it a lift. I'd think, 'Why has he got this thing about gratuitous key changes?' The idea of changing the key of a song just because it made it more interesting to listen to was really alien to me."
David Richards (2000): "I have never heard, before or since, a singer with such a vocal range as Freddie. He had to be in control of every note of the orchestral parts. Standing over Mike at his keyboard with a feverish enthusiasm, he would examine and direct every violin part, every cello note, when they should play, and how loudly, and when there should be flutes and how high they should play"
Freddie (1982): "I basically write the tune. I write the song around the melody most of the time. Sometimes a lyric will get me started. 'Life Is Real' was one of those, because the words came first. I just really got into it, pages after pages, all kinds of words. Then I just put it to a song. I just felt that it could be a Lennon-type thing. 'Killer Queen' was another one I wrote the words for first. But otherwise I have melodies in my head. I play them on the piano and I used to tape record them. Now I just store them in my head. I feel that if they're worth remembering, I will. If I lose them, I lose them. If they're still in my head, they're worth remember and putting down on tape."
Freddie (1984): "These days basically write them in my head, to be honest, yeah I don't ... otherwise basically piano, yeah, the guitar part is over, I mean, I used to ... the odd time I... Crazy Little Thing was the last song that I ever wrote on the guitar, I'm so limited with the guitar chords, sometimes that's a good thing, that's what I liked Crazy Little Thing, if I knew too many guitar chords I'd ruin it, but otherwise it's piano, most of the time I just have the things in my head and I go to a synthesiser or whatever and just play it out, or a drum-machine, it's different way of writing now. Before I used to sit on the piano and really work my arse off to get the whole chords and the whole construction before I turned a theme in a song, now it's a different way of thinking, I just don't like still doing it"
John Deacon (1976): "We do take a long while in the studio, especially Freddie, with the songs he writes. He has all the ideas sort of up in his head of what he wants to go on top and all the little things here and there"
John Deacon (1979): "The biggest factor of our music being lighter than in the early days is that in this point Freddie has developed more interest in the piano, because the song he writes in piano has the piano as base instrument, most likely. Liar in the first album was written on guitar, and naturally goes in the hard rock extreme, as opposed to Killer Queen. Freddie is now surrounded by Japanese furniture decoration and a grand piano, so the songs are written there. Simply, isn't it? But I doubt Roger writes songs on the drums"
John Deacon (1984): "On Queen II we spent a lot of time in the studio, especially Freddie"
Brian May (2003): "I always enjoyed Freddie's expeditions into heaviness; he had the ability to be very powerful"
Mack (2000): "Freddie was something impressive writing. He always started by a general idea of the song, he first purposed to do something in a global sense, for example "I'm doing a love song, very harmonic". And from that seminal idea he polished, added and took off stuff. That's how he said he wrote Bohemian Rhapsody and those superb songs he did for the first two albums of the band. But he always was clear about what he was doing and where was he going."
Mack (2000): "Freddie was actually very modest about his songs, but he knew when he'd written a good one. That's what I call genius; he would sit down, write something, and it was so good, he didn't even question it or analyse it. Often he would say, 'What do you think of the lyrics?', and I would reply, 'Very good!', and he would say, 'Wait a minute', and change a chord here and there, then a big smile would come over his face as he told me, 'Now it's better, isn't it!'
Montserrat Caballé: "Barcelona was an example of the high musical talent of Freddie. He was not only a popular singer, he was a musician that could sit at the piano and compose. He discovered a new way to bring different music styles together. He is the first and only person to have done this"
Roger Waters: "I don't know, I don't think there's a better songwriter than me these days, except perhaps Freddie Mercury"
© Copyright 2006 - 2013; Daria Kokozej (Contact Me)