"NO BED OF ROSES"
Freddie Mercury in Japan: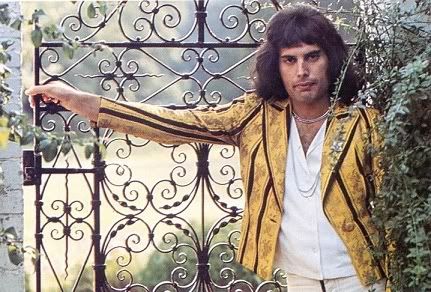 Pressure from the press, well-illustrated on the "News Of The World"-cover:
The beginning was very hard for Queen: To pay the bills, Freddie opened a stall in Kensington along with Queen-drummer Roger Taylor, selling Edwardian and Victorian clothes and artwork.
"At one point, two or three years after we began, we nearly disbanded. We felt it wasn't working, there were too many sharks in the business and it was all getting too much for us. But something inside us kept us going and we learned from our experiences, good and bad... We didn't make any money until the fourth album, 'Night at the Opera'. Most of our income was consumed by litigation and things like that."
Queen recorded in 'down time' – in the early morning when the cleaners come in into the studio. They managed to record some demos and showed them to various record companies and subsequently signed to Trident who were the only ones at the time who were interested. But instead of making enough promotion Trident neglected the group. Actually, it took three years for Queen to release their first album.
Queen were hugely surprised as they made their first important tour to an international venue, to Japan, and discovered for the first time what it felt like to get star treatment. "We encountered something like Beatlemania there," Taylor recalls. "We'd never seen anything like that. After being demi-gods at the Budokan [famous concert hall in Tokyo] it was back to Richmond [Roger's flat in those days], still on 60 quid a week."
The band was still practically not seeing any pound of their work; bassist John Deacon got married and needed a house, the other members were still sharing a little flat while their manager of their record company Trident was driving around in his second Rolls Royce.
Subsequently Queen started to look out for a new and better management and representation; the band's new manager became John Reid, personal and business partner of Elton John.
In addition to it, Queen had to pay back amount of debts on Tridents behalf, because Trident had been excessive with spending money actually earned by Queen.
Furthermore, the press, never exactly supporters of the group, were now starting to point to Queen as examples of everything bad in 70s rock music. So for Queen it meant hard work until success came and it was a difficult task to conquer the music market.
Freddie: "You have to have a kind of arrogance and lots of confidence and absolute determination, as well as all the other obvious skills like music. Arrogance is a very good thing to have when you're starting, and that means saying to yourselves that you're going to be the number one group, not the number two. Hope for the best, go for the top. We just had it inside us and – well, we all had a very big ego, as well."
"Now, if you don't enter the business as well as play music, you get ruled out at stage one. It's vital to do the whole thing properly – talent is not just writing good songs and performing them, it's having a business brain. Because that's a major part of it – to get the music across properly and profit from it, isn't it? Use all the tricks of the trade, dear, and if you believe in yourself, go all the way. That's the only way we know and it has worked for Queen." (SOURCE)
"Dislocate your spine if you don't sign he says
I'll have you seeing double
Mesmerize you when he's tongue-tied
Simply with those eyes
Synchronize your minds and see
The beast within him rise
Don't look back
Don't look back
It's a rip-off
Flick of the wrist and you're dead baby
Blow him a kiss and you're mad
Flick of the wrist – he'll eat your heart out
A dig in the ribs and then a kick in the head
He's taken an arm and taken a leg
All this time honey
Baby you've been had
Intoxicate yourself with what I'm saying
If not you'll lie in knee-deep trouble
Prostitute yourself he says
Castrate your human pride
Sacrifice your leisure days
Let me squeeze you till you've dried
Don't look back
Don't look back
It's a rip-off
Work my fingers to my bones
I scream with pain
I still make no impression
Seduce you with this money-make machine
Cross-collateralize, (big time money, money)
Reduce you to a muzak-fake machine
Then the last goodbye
It's a rip-off
Flick of the wrist and you're dead baby
Blow him a kiss and you're mad
Flick of the wrist – he'll eat your heart out
A dig in the ribs and then a kick in the head
He's taken an arm and taken a leg
All this time honey
Baby you've been had"
Queen's flat in the early 70s (address: 36 SINCLAIR ROAD, W14, Kensington/London) (yes, this is a collage from my video camera^^)
© Copyright 2006 - 2013; Daria Kokozej (Contact Me)